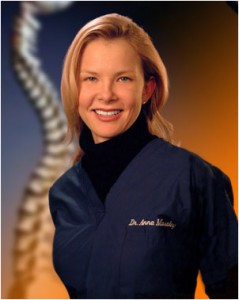 Dr Anna Moseley was involved in a serious car accident as a young adult that debilitated her for 18 Months. After receiving conventional treatment from conventional doctors for acute back trauma, her symtoms hadn't subsided. With severe back pain and spasm persisting and affecting the quality of her life, she stepped into a chiropractor's office for the first time after a year of other failed treatments. Noticing pain relief and increased flexibility and range of mobility immediately, she continued treatment until her condition was resolved( 6 months). This single experience set her on a life-long journey: to improve the lives of patients suffering from conditions which affect their quality of life.
Graduating from Life University with a doctorate in Chiropractic Medicine in 1997, Dr Moseley went on treat countless patients for several non-profit organizations (volunteer) in India, Thailand, Iceland, France, Germany, South Africa, Brazil, and other countries around the world. In 2001 she volunteered her services numerous times to treat victims of the 9/11 attack in lower Manhattan and was awarded an honorary commendation. In 2000 she acted as a team doctor leading a mountaineering group up to the largest summit in the Western Hemisphere, Aconcagua, Chile. In 2001 she also participated and played as a team doctor for " the toughest 4 day adventure race in the world", MSOQ in China. In 2013, she joined a team leading the way to another mountain, Annapurna, Nepal. Climbing is her passion.
In 2000 she received a CCSP (Certified Chiropractic Sports Physician) postgraduate degree from Palmer University in Iowa, and received CCEP (Certified Chiropractic Extremities Practitioner) in 2014.
Over the last decade she's treated thousands of professional and amateur athletes including Washington Redskins, Capitals, and Nationals while also treating endurance athletes at marathons all over the world and around the tri-state area several times a year. She also was a team doctor for world-leading soccer team Bayern Munich 2002.
Having treated thousands of patients globally, Dr. Anna Moseley has over 20 years of certified experience as a chiropractor.
Dry Needling Certification & Expertise
In 2015 Dr. Anna became certified in "dry needling" trigger point therapy in New Zealand, adding to her muscle tension and trigger point therapy credentials. In 2016 she returned to Australia to complete a master's program in dry needling, specializing in extremities. Read more about dry needling therapy here.
Conditions Treated by Dr. Anna
Sports Injury specialization
Shoulder pain and rotator cuff complications
Sciatica
Neck Pain, Headaches, Numbness or discomfort in hands and feet
Back and hip pain
Degenerative Disc Disease
Sports Injuries including knees, TMJ, shoulders, plantar fasciitis, tendonitis, and achilles tendon complications
Foot repair / orthotics
TMJ (Temporal Mandibula Joint Syndrome) / Headaches
Locations
Dr. Anna is currently treating patients in both Annandale and Reston. For more information, check out office locations or call to schedule a consultation or appointment:
Reston Crossfit
Telephone: (202) 415-0110
Address: 310 Victory Drive, Herndon VA 20170
Annandale Positively Chiropractic
Telephone: (703) 642-8685
Address: 5105 Backlick Road, Annandale VA 22003